Leadership is one of the most crucial components of a business. Managers and leaders who understand lean-agile leadership play an important role in guiding teams.
Agile leaders possess a wealth of abilities, including the ability to provide adaptability, facility, coaching, motivation, teamwork, and a clear vision for achieving the organization's objectives.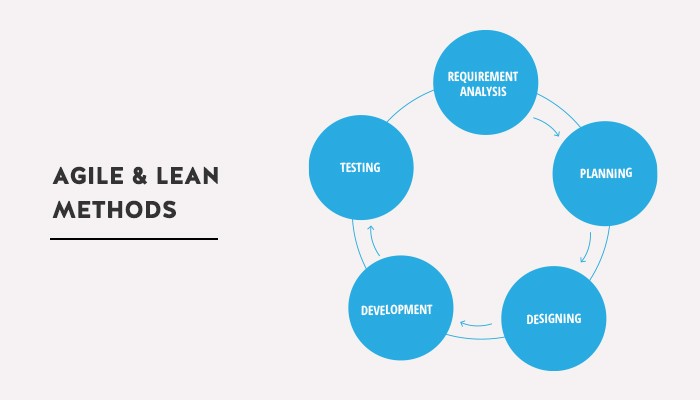 In this blog, we will discuss some tips about how leaders can develop a lean-agile culture in the organization.
What does lean agile leadership mean?
Agile means to be flexible and move quickly by adapting to different scenarios. Several firms presently use this skill to handle projects efficiently. The recent pandemic has further pushed leaders of organizations to adopt agile ways of working.
Lean agile leadership is one of the most in-demand skills among leaders, project managers, and employed professionals. Such leaders can withstand pressure, guide the team, and create sustainable growth for the company under difficult circumstances.
They employ a very inclusive and empathetic management approach. They facilitate and nurture their team in the same manner they would like to be facilitated and groomed.
Agile leaders have a tendency to bring the entire team together to work toward the same goal.
Lean agile leadership skills leaders must learn
Lead the change
The second of Deming's 14 renowned management principles states clearly that management must accept the responsibility of bringing about change. In lean-agile control, you must set an example for your teams to follow to become agile.
Your every management action must be a clear signal that times are changing. Without your cooperation as manager, there will be no change in the organization. You as manager are the key to success.
Lifelong learning
Knowledge workers have to constantly pick up new skills. As an agile leader, you lead by example. To learn how the workplace is evolving and how you can be a part of that change, pick up a book, and attend seminars, trainings, and meetings. Inspire your teams to do the same.
Develop people
To compete in today's market, you must have a competent workforce. As the standard goes up every day. To ensure that everyone you deal with has cutting-edge capabilities, you must consistently expend time, money, and effort.
Inspire, align, and minimize constraints.
The era of command and control is over. Nobody possesses the collective knowledge of workers' intelligence. The best thing you can do for your team in lean agile leadership is to give them the freedom to achieve more than you ever thought possible.
Three crucial steps are involved in this:
In spite– Give them the motivation to act by inspiring them. Instead of control, be inspired.
Align: A single person cannot meet the problems facing industrial progress today. Make sure everyone is speaking the same language.
Reduce restrictions: Your organization was designed to maximize restrictions on what people could do with their abilities while optimizing utilization. It is your duty to remove all obstacles preventing people from realizing their full potential.
Decentralize decisions.
Intelligent people can make smart decisions. And people who are doing the labor are much more aware of the effects of their choices than everyone else. Your processes will run much more smoothly, and change will happen more quickly, if individuals with in-depth specialist knowledge are allowed to make the decision.
In some organizations, decentralization is a long journey. Making the change happen is your job. However, just keep in mind that not all decisions ought to be decentralized. It takes some trial and error to figure out which decisions should be decentralized and which should be left to a central location.
Unlock the intrinsic motivation
The most toughest challenge in lean agile leadership is to unlock people's intrinsic motivation. It's very easy to demotivate people. It's tough to help them be motivated. The first step is acknowledging that you can not intrinsically motivate them.
Your keys to unlocking intrinsic motivation will be resolving demotivating factors, coaching, enabling, trusting, empowering – and most of all: getting out of their way.
Benefits of lean agile leadership
The most important benefit people can achieve from adopting a lean agile leadership style of management is sustainable business growth. In addition to these significant advantages, several other benefits are also there, such as:
creation of respectful relationships with the team members and appreciation of them.
Heightened attentiveness and alertness on all levels.
creates a culture of lifelong learning.
fosters team confidence as a whole.
Challenges become easier to tackle by adopting an organized, responsible, and autonomous culture.
Organizations perform best in agile environments because it allows each worker to work, contribute, and develop. The first step toward success is creating lean agile control at every level of an organization.
We at Lean Leaders Plus help you learn about lean-agile leadership for your business growth. For more information about leadership skills, feel free to contact us.